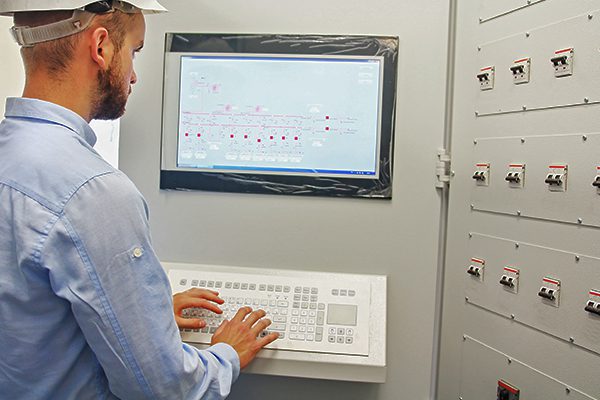 Target Group
This course is suited to engineers who wish to broaden their knowledge of Ignition SCADA and to learn advanced configuration techniques.
(Pre) Knowledge
This course is not for beginners. You must have 6 month's experience using Ignition or have successfully completed the 5-day Ignition core training course.
Methods
The course is taught in a computer-lab classroom where each attendee is assigned to a computer. The curriculum includes lecture, demonstration, and the creation of a live project that gives each student hands-on experience with all major features of Ignition. The format of the course encourages students to ask questions relevant to specific projects they have planned.

Material
Students will receive a hard copy of the official Inductive Automation course notes, and will be provided with writing materials.
Morning and afternoon refreshments and a catered lunch are also provided.
Certification
ATS is the Certified Training Centre for Ignition in Ireland, UK, Germany, the Netherlands and Australia and is a Certified Premier Integrator for Ignition SCADA and Ignition MES. Inductive Automation Certified Training Centres offer training that meets the Inductive Automation high standards for quality and uses their curriculum and materials.
Students who successfully complete this course receive an ATS Certificate of Competency for the Ignition SCADA Advanced Training course. This is not a compulsory requirement to taking the Ignition Gold Certification Test with Inductive Automation. Only students who have already achieved Ignition Core certification are eligible to sit the test. The certification test is not included in the fee or the timetable.
Level
Post-secondary or tertiary education
Language
This training is delivered in English
Objective
The objective of this course is to provide students with a working understanding of the advanced features of Ignition SCADA software and is sufficient for them to be able to engineer complex Ignition SCADA projects with connections to both PLCs and SQL databases.
Content
Here are a few of the topics that will be covered (full itinerary below under download):
Important Ignition Settings
SQL Tutorial
SQL in Ignition
Database Manipulation
Advanced Usage of UDTs, Templates & Components
Advanced Scripting
File I/O – CSV Parsing
Popup Menus
Retargeting
Dynamic PDF Reports
Redundancy & Advanced Architectures
Troubleshooting
Ignition Advanced Course Details