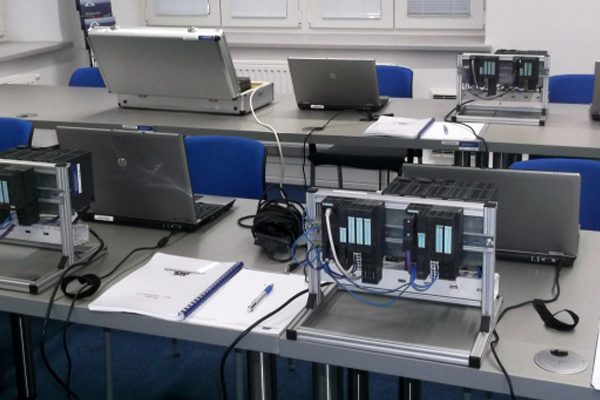 Targets
After the training the participant is capable of managing a new TIA Portal application. He can also implement changes in the parameters of the application and make optimal use of the TIA Portal.
Training form
All of our trainings are based on the model of task-oriented instructions. This model guarantees a seamless transition between learn and work situations. During the training de participant carries out teaching duties on realistic applications. The focus here is not only about acquiring product knowledge but also about learning task-related skills. By working on realistic applications we speed up the learning process and is the desired performance improvement a fact.
Learning tasks
Adjusting a network in User Program with TIA Portal for the S7-1200-1500 PLC.
Replacing a faulty sensor that is connected S7-1200-1500 configuration.
Replacing a faulty component (CPUJ/O) out of a S7-1200-1500 configuration.
Expand a S7-1200-1500 application with a PROFINET IO-device (ET200s).
Adjusting a HMI screen from panel KT600 Basic/TP700 Comfort TIA Portal for a TIA Portal application.
Solve a malfunction in a S7-1200-1500 application and make optimal use of TIA Portal.
S7-1200, S7-1500, input and output cards, digital and analog, TIA Portal, Project view, Portal View, PLC-Tags, OB's, FC's, Watch tables, Force tables, PLC
PLC connection, Distributed IO, Basic Instructions, Extended Instructions (TSUB, TADD…), Technology Instructions (HighSpeed, PID compact), Communication Instructions (GET, PUT, TSEND, TRECEIVE,…)

Target group
This training is for (failure) mechanics or service technicians who need to manage a new TIA Portal application.

Foreknowledge
The participant knows the general functioning of a PLC and understands the operation of digital technique..
PLC – Siemens S7-1200-1500 TIA Portal | Maintenance Details

Datum: Auf Anfrage
Ort: Germany
Preis: