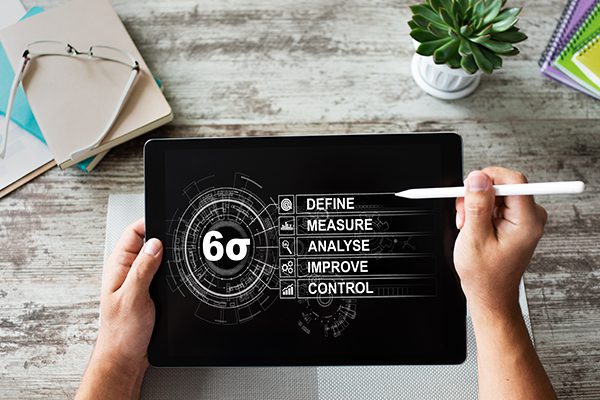 Target Group
Design, process and quality engineers, project managers, production and quality managers.
Objective
On completion of Lean Six Sigma Black Belt training, you will be able to structurally and effectively identify and solve problems. You will be able to manage improvement and decisive change projects. The result is improved process performance and better product quality which translates into lower costs and higher customer satisfaction.
Lean principles (Value, Value Stream, Flow, Pull, Continuous Improvement)


Project Management (Project Charter, Hoshin, Policy Deployment, DMAIC, ..)


Production Management (TOC, TPM, OEE, SMED, ..)


Voice of the Customer & CTQ Flowdown


Process Performance Metrics & Process management (PFM, SIPOC, VSM)


Verdieping in gebruik van Minitab


Problem Solving (8D, Cause & Effect, 5Why, ..)


Advanced SPC – Statistical Process Control


Advanced MSA – Measurement System Analysis


Cpk – Process Capability & Performance


Design for Excellence (DFM/A, DfSS, Reliability Eng., Tolerance analysis, ..)


DFMEA / PFMEA – Failure Mode & Effect Analysis & Control plan


Opzetten en uitvoeren van experimenten m.b.v. Design of Experiments (DOE, RSM, ..)

Statistische analyses (Non-normal data, Multiple Regression, Transformaties, ..)

Analyseren van attributieve data (Chi-square, Attributive Agreement, ..)


Project selection & Project tracking


Lean simulatie game, Six Sigma cases & proefexamen
Material
Each participant is provided with three training manuals including presentations and exercises. Participants will also receive a variety of practical templates and the book 'Applying Lean Six Sigma in Manufacturing' by Quentin Brook. During the training we use Minitab.
Language:
This training is available in English or Dutch.
Lean Six Sigma – Black Belt

 Course Details

Termín: Na vyžádání
Místo: Czech Republic
Cena:

Termín: 1 gün
Místo: Istanbul
Cena:

Termín: Planning op aanvraag, 6 dagen
Místo: Netherlands
Cena:

Termín: Planning op aanvraag, 6 dagen
Místo: Belgium
Cena:
Štíhlá výroba & Six Sigma – Školení ATS