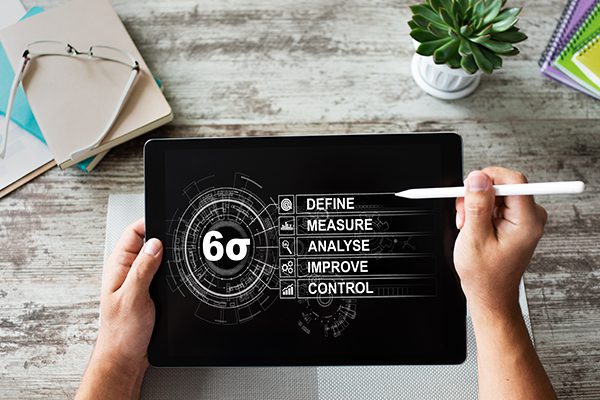 Lean Six Sigma Black Belts are both project managers and specialists. These professionals are responsible for the development of new production and improvement processes. Lean Six Sigma Black Belts are capable of successfully introducing change.
Target Group
Design, process and quality engineers, project managers, production and quality managers.
Objective
On completion of Lean Six Sigma Black Belt training, you will be able to structurally and effectively identify and solve problems. You will be able to manage improvement and decisive change projects. The result is improved process performance and better product quality which translates into lower costs and higher customer satisfaction.
Lean principles (Value, Value Stream, Flow, Pull, Continuous Improvement)


Project Management (Project Charter, Hoshin, Policy Deployment, DMAIC, ..)


Production Management (TOC, TPM, OEE, SMED, ..)


Voice of the Customer & CTQ Flowdown


Process Performance Metrics & Process management (PFM, SIPOC, VSM)


Verdieping in gebruik van Minitab


Problem Solving (8D, Cause & Effect, 5Why, ..)


Advanced SPC – Statistical Process Control


Advanced MSA – Measurement System Analysis


Cpk – Process Capability & Performance


Design for Excellence (DFM/A, DfSS, Reliability Eng., Tolerance analysis, ..)


DFMEA / PFMEA – Failure Mode & Effect Analysis & Control plan


Opzetten en uitvoeren van experimenten m.b.v. Design of Experiments (DOE, RSM, ..)

Statistische analyses (Non-normal data, Multiple Regression, Transformaties, ..)

Analyseren van attributieve data (Chi-square, Attributive Agreement, ..)


Project selection & Project tracking


Lean simulatie game, Six Sigma cases & proefexamen
Lean Six Sigma – Black Belt: Plazas abiertas

Fecha: Por solicitud
Ciudad: Spain
Precio:

Fecha: 1 gün
Ciudad: Istanbul
Precio:

Fecha: Planning op aanvraag, 6 dagen
Ciudad: Netherlands
Precio:

Fecha: Planning op aanvraag, 6 dagen
Ciudad: Belgium
Precio: