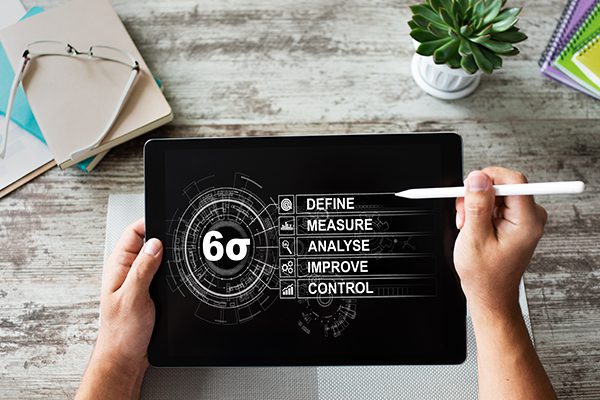 Für wen?
Für Konstrukteure, Prozess- und Qualitätsingenieure, Projektleiter, Produktions- und Abteilungsmanager.
Ziele
Nach diesem Training sind Sie im Stande Probleme effizienter und strukturierter zu identifizieren und zu lösen. Sie sind ebenfalls in der Lage Optimierungsprozesse tatkräftig zu managen. Hieraus resultieren höhere Prozessleistungen und Produktqualität, wodurch die Kosten gesenkt werden und die Kundenzufriedenheit gesteigert wird.
Lean Management Prinzipien (Werte, Flow, Pull, …)


Projektmanagement (Rollen & Verantwortungsbereiche, Projektauftrag, DMAIC, …)

Produktmanagement (TOC, TPM, OEE, SMED, …)

 

Voice of the Customer & CTQ Flowdown

 

Process Performance Metrics

 

Process Management (PFM, SIPOC, VSM)

 

Process Flow Mapping & SIPOC

 

Problem Solving (8D, Cause & Effect, 5Why, …)

 

SPC – Statistical Process Control

 

Cpk – Process Capability & Performance

 

Design for Excellence (DFM/A, DfSS, Reliability Eng., Toleranzanalyse, ..)

DFMEA / PFMEA – Failure Mode & Effect Analysis & Control plan

Entwurf und Ausführung von Experimenten mit Hilfe von Design of Experiments (DOE, RSM, …)

 

Statistische Analysen (nicht Normalverteilte Daten, multiple Regression, Transformationen,..)

 

Analyse von attributiven Daten (Chi-square, Attributive Agreement, ..)

Projektauswahl & Projektverfolgung

CAP – Change Acceleration Process & Human Dynamics

Lean Game, Lean Six Sigma Case & Übungsexamen
Material
Während des Trainings bekommt jeder Teilnehmer drei Trainingshandbücher mit den zugehörigen Präsentationen und Übungen. Zusätzlich erhalten die Teilnehmer diverse Dokumentvorlagen und das Buch "Applying Lean Six Sigma in Manufacturing" von Quentin Brook. Die Teilnehmer arbeiten während des Trainings mit Minitab.
Download
Weitere Informationen
Unsere offenen Schulungen werden wieder aufgenommen, sobald die Mindestanzahl von vier Teilnehmern bzw. die Maximalanzahl von acht Teilnehmern erreicht wird. Falls Sie sich für eine dieser Schulungen registrieren möchten, klicken Sie bitte auf "Registrieren/Register" für die jeweilige Veranstaltung an dem gewünschten Datum und füllen Sie das Formular aus. Sollten Sie diesbezüglich Fragen oder Anmerkungen haben, können Sie diese jederzeit an uns richten.
Sollten Sie Interesse an einer In-house Schulung haben, können Sie diese direkt unter der 0049 561 952990 anfragen.
Lean Six Sigma – Black Belt: Freie Teilnehmerplätze

Datum: Auf Anfrage
Ort: Germany
Preis:

Datum: 1 gün
Ort: Istanbul
Preis:

Datum: Planning op aanvraag, 6 dagen
Ort: Netherlands
Preis:

Datum: Planning op aanvraag, 6 dagen
Ort: Belgium
Preis: