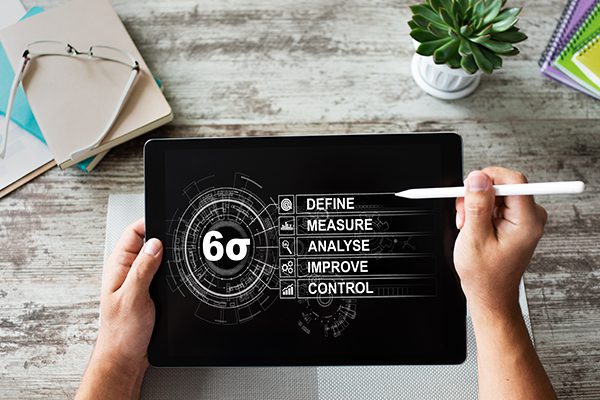 Für wen?
Für alle Unternehmer, Supervisor und Ingenieure, die direkt oder indirekt an der Prozessoptimierung beteiligt sind.
Ziele
Nach Abschluss dieses Trainings sind Sie mit der Methode sowie mit den wichtigsten Instrumenten, Begriffen und Abkürzungen von Lean Six Sigma vertraut. Sie erfahren was Lean Manufacturing und Six Sigma für Ihr Unternehmen leisten kann und wie Sie Probleme in der Produktion lösen können.
Lean Management Prinzipien (Werte, Flow, Pull, …)

Lean Game & Lean Six Sigma Case

Voice of the Customer & CTQ Flowdown

Process Performance messbar machen (Yield, DPMO, ppm, …)

SPC – Statistical Process Control

MSA – Measurement System Analysis / Gage R&R%

FMEA – Failure Mode Effect Analysis

5S Workplace organisation

VSM – Value Stream Mapping

Identifying and eliminating waste

Visualising data / Introduction to Minitab

(Pareto, Bar Chart, Pie Chart, Dot Plot, Histogram, Box Plot, Time Series Plot, Scatter Plot)

Problem solving tools (Pareto, Cause & Effect, Capability, …)

Basic Statistics (Correlation, Regression, Probability, …)

Kaizen Continuous Improvement / PDCA
Weitere Informationen
Unsere offenen Schulungen werden wieder aufgenommen, sobald die Mindestanzahl von vier Teilnehmern bzw. die Maximalanzahl von acht Teilnehmern erreicht wird. Falls Sie sich für eine dieser Schulungen registrieren möchten, klicken Sie bitte auf "Registrieren/Register" für die jeweilige Veranstaltung an dem gewünschten Datum und füllen Sie das Formular aus. Sollten Sie diesbezüglich Fragen oder Anmerkungen haben, können Sie diese jederzeit an uns richten.
Sollten Sie Interesse an einer In-house Schulung haben, können Sie diese direkt unter der 0049 561 952990 anfragen.
Lean Six Sigma – Orange Belt: Freie Teilnehmerplätze

Datum: Auf Anfrage
Ort: Germany
Preis: