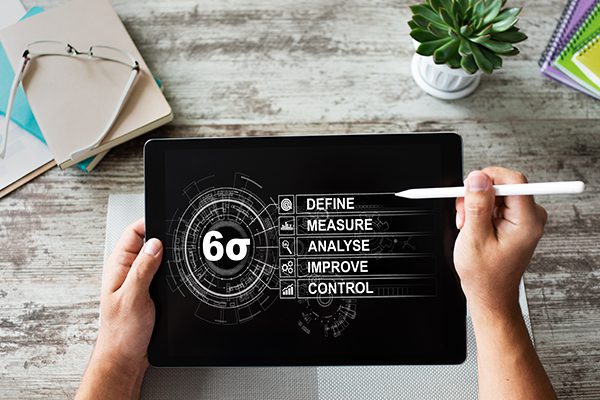 Target Group
Design, process and quality engineers, project leaders and department managers.
Objective
On completion of this training, participants are able to structurally and effectively analyse and solve production problems. The result is improved process performance and better product quality. This translates into lower costs and higher customer satisfaction.
Lean Management Principles (Value, Flow, Pull, ..)

Project Management (Roles & Responsibilities, Project Charter, DMAIC, …)

Voice of the Customer & CTQ Flowdown

Process Performance Metrics

Process Flow Mapping & SIPOC


Problem solving (8D, Cause & Effect, 5Why, …)


Visualisation of data with Minitab


(Pareto, Bar Chart, Pie Chart, Dot Plot, Histogram, Box Plot, Time Series Plot, Scatter Plot)


Statistical techniques (Hypotheses, Correlation, Regression, ANOVA, Probability…)


5S workplace organisation


VSM – Value Stream Mapping (Current & Future)


SPC – Statistical Process Control


MSA – Measurement System Analyse


Cpk – Process Capability & Performance

FMEA – Failure Mode Effect Analysis & Control plan

DOE – Design of Experiments

Kaizen Continuous Improvement / PDCA

5S Workplace Organisation

Kaizen Continuous Improvement

Lean simulation game, Six Sigma case & practice exam
Lean Six Sigma – Green Belt: Plazas abiertas

Fecha: Por solicitud
Ciudad: Spain
Precio:
Actualmente no ofrecemos este curso en español, pero sí en holandés e inglés. A continuación encontrará el enlace de registro para acceder a este curso en dichos idiomas.