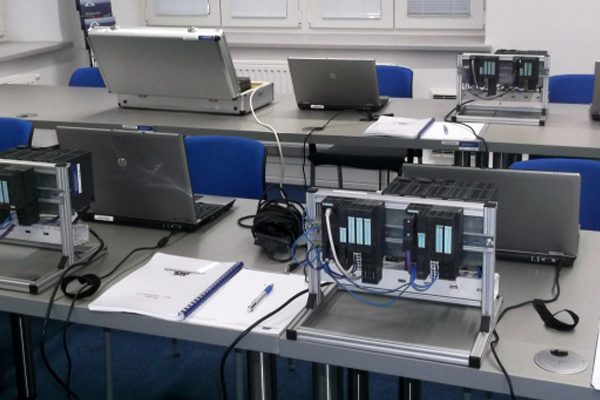 Target Group
This course is designed for engineers who work with Allen Bradley ControlLogix or CompactLogix PLC systems. The objective of this course is to provide sufficient knowledge and skills to be able to develop, modify or maintain a ControlLogix system.
(Pre) Knowledge
To join this course, a good working knowledge of Windows is required. Knowledge of Allen-Bradley PLC-5 or SLC-500 processors is an advantage, but not required.
Global Contents
During this course an overview will be given of the functionality of the Allen-Bradley ControlLogix family of controllers and how these can be programmed using the RSLogix 5000 software. Programming, documenting and on-line monitoring with the RSLogix 5000 software using the Ladder Logic programming language forms the main part of the course. RSLogix 5000's user interface is friendly, so users quickly learn the basic functions.

Methods
ATS courses are given by highly qualified trainers, with practical knowledge, in professional ATS training centres or On-Site. Prior to the course an intake conversation can take place to define the participant(s) and the company's requirements. Presentations (theory and examples) as well as practical exercises bring the courses to life. ATS courses are interactive; the trainer will always make sure the training contents link back to your situation.

The following lessons will be followed
Lesson 1

Allen Bradley ControlLogix hardware
Racks / Slots / Grouping
I/O electrical connections for various modules
Configuring of the hardware

Lesson 2

General features of the ControlLogix family
The RSlogix 5000 programming package
Programs / Tasks / Routines
Processor and Program Data Tags
Data Types
Ladder Logic editing
IEC 1131 'compliant' languages

Lesson 3

Connecting to the PLC
Uploading / downloading the program
Selecting the correct PLC program
Compare programs
Help functions
Programming instructions, including the modifications of existing AND and OR gates, flip-flops, timer functions and counter functions

Lesson 4

To copy, to change and to store the PLC-programs
Fault finding
Off-line & On-line mode
Monitoring and modifying data variables
Forcing variables
Cross references
Software documentation
Using trends and data monitors

Lesson 5

Share data between Logix5550 Controllers and acquiring insight into the producer/consumer model.
Program initialisation routines
Program fault-handling routines.
Writing, testing, and documenting the PLC-program
Convert a PLC5/SLC500 program to a ControlLogix program
PLC – Allen-Bradley ControlLogix Training Details

Date: Upon request
Location: United States