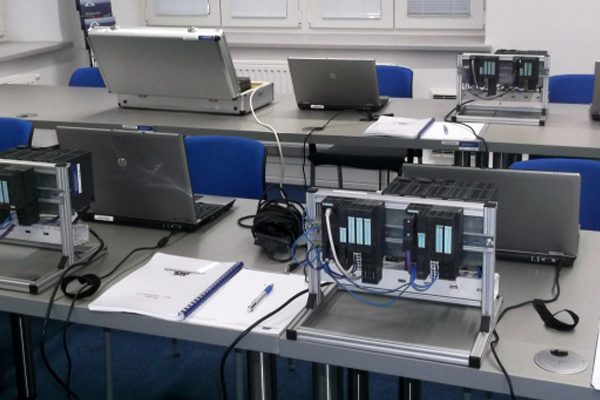 Target Group
This course is designed for new Allen-Bradley SLC-500 users who want to build up a profound knowledge of the PLC and programming software.
(Pre) Knowledge
To join this course a basic knowledge of programming an Allen-Bradley PLC system or comparable PLC-types is desired, but not required. Knowledge in the field of SLC-500 maintenance is also advantageous. Experienced engineers and programmers can follow this course in a shorter space of time.
Global Contents
During this course an overview will be given of the application functions of the Allen-Bradley SLC-500 family and the programming methods using the APS or Al Series or RSLogix 500* programming software. Detailed information about the application of this PLC-type and its possibilities will be explained.
Programming, documenting and on-line monitoring will be practised during the course using the APS or Al Series or RSLogix 500* software for the PC, the so-called Ladder Logistics program. The user interface is friendly to work with so that users should not find any problems in handling the basic application programming. The package offers application functions through keys, help screens and many options to program, to document and to test an SLC-500 program.

Methods
ATS courses are given by highly qualified trainers, with practical knowledge, in professional ATS training centres or On-Site. Prior to the course an intake conversation can take place to define the participant(s) and the company's requirements. Presentations (theory and examples) as well as practical exercises bring the courses to life. ATS courses are interactive, the trainer will always make sure the training contents link back to your situation.

Overview of the SLC-500 components (fixed/modular)

I/O configuration

Memory-organisation, file structures e.g.

Hardware addressing techniques

Direct and indexed addressing techniques

Relay and word type instructions

Data Highway 485 communication

The use of the APS or AI Series or RSLogix 500* software package:

Installing the software
Selecting work program menu
Custom made help screens
The On- and Off-line Editor Menu, Reporting Menu
PLC Link Diagnostics
The Program Compare Menu
PLC – Allen-Bradley SLC-500 Training Details

Date: Upon request
Location: United States