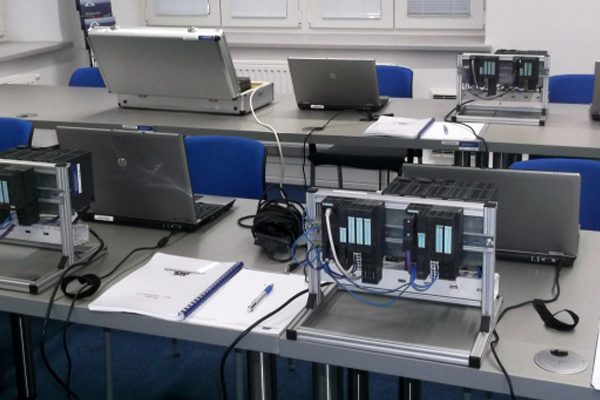 Aims
After the training, the participant will be able to program Siemens S7-1200 / S7-1500 applications (programming / configuration) with TIA Portal and adjust the required programming guidelines correctly.
Process
Our training is based on the model of Task-Oriented Instruction. This model ensures a seamless transition between learning and work situations. During the training, the participant carries out learning tasks in real live applications. The emphasis is on gaining product knowledge, but also on learning job-related skills. Realistic applications will accelerate the learning process and the desired performance improvement.
S7-1200 / S7-1500 / Comfort Panel configuration with TIA selection tool

S7-1200 / S7-1500 / Comfort Panel configuration and commissioning with Siemens Proneta

Siemens S7 Classic project converting to TIA Portal

Programming of the feature / function block with SCL programming, making optimal use of new programming techniques

Building and managing a Library with TIA Portal

A PROFINET IO network implementation
Concepts
TIA-Portal, S7-1200, S7-1500, ET 200MP, Comfort panels, ET 200SP, USINT, LREAL, VARIANT, MOVE_BLK, MOVE_BLK_VARIANT, Optimized Blocks, System constants, Slice, GET_ERR_ID, User datatypes at IO-areas, Types, Master Copies.

Target Group
This training is intended for programmers who wants to create a high quality application for the Siemens S7-1200 and S7-1500 hardware. Prior knowledge The participant has a few years experience with Siemens S7 Classic, S7-300 and S7-400 hardware programming.
PLC – Siemens S7-1200 TIA Portal Training Details

Date: Upon request
Location: United States