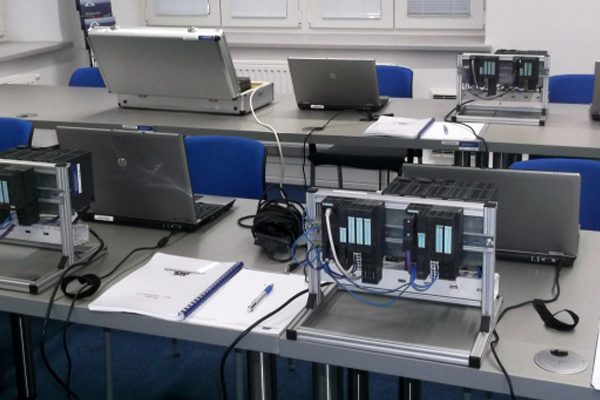 Aims
After the training, the participant will be able to program a new TIA Portal application or implement a major change. He can also adjust the parameters of the application, whilst making optimal use of TIA Portal.
Process
Our training is based on the model of Task-Oriented Instruction. This model ensures a seamless transition between learning and work situations. During the training, the participant carries out learning tasks in real live applications. The emphasis is on gaining product knowledge, but also on learning job-related skills. Realistic applications will accelerate the learning process and the desired performance improvement.
Learning Tasks
Programming a User Program with TIA Portal for the S7-1200 or 1500 PLC.
Configuring a PROFINET with two IO devices using TIA Portal, with S7-1200 or 1500 as a PROFINET IO Controller.
Configuring a panel (KT600 Basic/TP700 Comfort) with TIA software for a TIA Portal application.
Building and managing a Library with TIA Portal.
Using TIA Portal for troubleshooting.

Concepts
S7-1200, S7-1500, Input and output modules digital and analogue, TIA Portal, Project View, Portal View PLC Tags, OBs, FBs, FCs, Watch tables, Force tables, PC-PLC connection, Distributed IO, Basic Instructions , Extended Instructions (TSUB, TADD, ..), Technology Instructions (High Speed, compact PID), Communication Instructions (GET, PUT, TSEND, TRECEIVE, ..).

Target Group
This course is intended for programmers and advanced maintenance engineers who will be developing new TIA Portal applications, or intend to make major modifications to existing applications.
Prior knowledge
The participant has general PLC knowledge and an understanding of digital technology.
PLC – Siemens S7-1200-1500 TIA Portal | Programming Training Details

Date: Upon request
Location: United states